Whether you've been in the business for two years or 20, writing conversationally is a challenge for many PR pros. If you ever find yourself sounding a little too formal, follow this advice from Bethany Cramer, Geben's newest account manager, to spice up your sentences:
•••
Post by: @heybethanyrae
With a background in business writing, my prose naturally grows into formal, traditional and un-poetic text. This is perfect for strategies and plans, but not impressive for social media or headline development. In an effort to retrain my brain and grow my abilities, I polled my friends and colleagues on how they maintain different writing voices. Based on their advice, and specific tools that work for me, I've added the following exercises to my daily routine.
Finding Inspiration: I've started to save down sentences, quotes, headlines and articles that I find to be stimulating. I'm always on the lookout for catchy, quippy phrases that I can reference when I need to spice up my thought process. Admittedly, my Evernote has quickly been filled with endless categorized babble. I've found continual inspiration from daily newsletters like The Skimm and DailyWorth, pulled from books written by masters like Jonathan Franzen, and habitually cut lines from my daily news feed. Nothing is off-limits.
Forget the Rules: Conversational writing doesn't need to follow traditional grammar rules. Go ahead and end your phrase with a preposition, write in incomplete sentences, or – gasp – start your post with an "and" or "but". It's all about sounding natural and grammar restrictions can often stifle your ability to sound real.
Personification: Picture an actual person when writing. Pick a character that you want to emulate and use them as a muse. Go as far as picking a pseudo profession, favorite food and type of pet. Ask yourself "Would my character say this?" If not, change it. Personally, I've never been comfortable as an actress, so this is the hardest exercise for me … which means it's probably the most important. I'm working on it.
Read Out Loud: Does your writing sound like something you (or your character) would say? Not quite? Work out the clumsiness of your sentences by rearranging, shortening and cutting out the fluff. It's all about personality (and lots of editing).
Writing enjoyable text that simultaneously makes your point isn't easy for all of us, but it is possible. What other exercises do you practice to improve your conversational writing?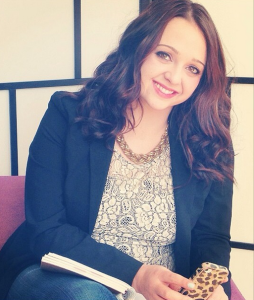 As Geben's newest account manager, Bethany Cramer leads national media relations for B2B and B2C clients, while also developing and executing creative content marketing and social strategies that help clients achieve their goals. A master of organization and an out-of-the-box thinker, Bethany helps clients tell their stories in ways that are compelling, relevant and unique. Connect with Bethany on Twitter (@heybethanyrae).
Photo credit: Flickr Creative Commons, via Jeni Rodger