One of my very first "Twitter friends" was David Spinks. Not only is he one of the nicest, most community-oriented people I've met through social media, but he's crazy smart and a hard worker. And, while he probably wouldn't call himself a PR guy, it turns out he's pretty darn good at this PR thing. Read on for his first-hand lessons. — Heather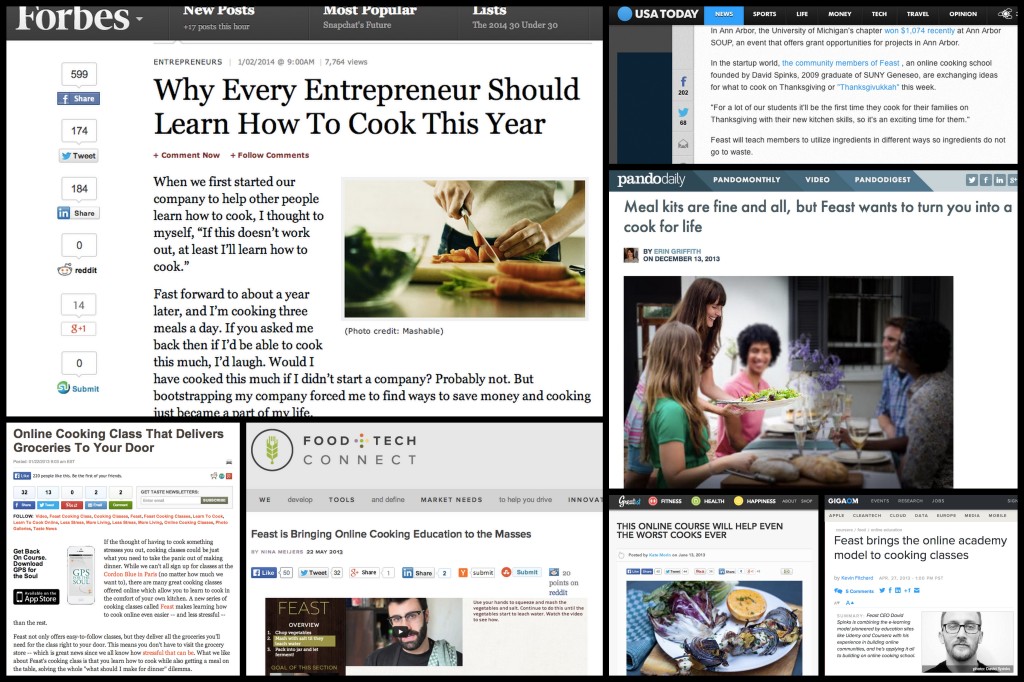 Post by @DavidSpinks
It was 6 years ago I was first introduced to the world of PR.
I picked up an internship for Ruder Finn Interactive where I continued to freelance for about a year.
At the time, Twitter was just becoming known, blogger outreach was still considered an "innovative approach" and I spent most of my time working on blogger lists which we'd go through and email in the hopes that 10-15% would write about our client's product.
Fast forward to today and well, a lot of people are still doing the same thing, myself included.
Whenever I work on a new PR campaign for Feast, with the goal of getting press, I start by doing a ton of research and forming a long list of press/bloggers to pitch.
We've been pretty successful at landing a healthy amount of PR and landing guest articles. To date, we've landed on Men's Fitness, Greatist, Summer Tomato, Food+Tech Connect, USA Today, Huffington Post, Forbes, Pando Daily, GigaOm, Venture Beat, and The Bold Italic to name a few with many more big ones on the way over the next couple months.
The thing is, out of all of the articles we received, only one has come from a traditional "pitch" process, and even that pitch was unique (I'll explain). So here are 7 things I've learned about getting press for your startup that has nothing to do with pitching a long list of contacts.
1. Nothing beats networking
By far, the single most effective way to get an article on any publication is to know someone at the publication. If you don't know someone, get an intro. If you can't get an intro, then figure out who you want to engage with at the publication and start to network with them on social media. Don't straight up pitch them on twitter (right away) but just start responding to them, sharing their articles, linking to them and showing them love.
Then after you're confident they recognize you and you've developed some trust, ask if it's alright if you email them (or get coffee if you can).
This probably isn't a surprise to PR folks who have essentially build entire businesses around the value of their relationships. But for a startup doing our own PR, this was a really important lesson.
2. Quality of traffic is more important than amount of traffic
It's really important to focus on publications with an audience that's very in line with your audience. Our product, the "Feast Bootcamp" is a 30 day program to help people build a habit of cooking. So our target audience are people who are health conscious, interested in improving themselves and enjoy reading about life hacks. So naturally, by far the best performing articles for us came from Greatist and Men's Fitness.
Pando, TNW and GigaOm got us some street cred in tech circles but did little to drive customers.
Everything helps with SEO and general credibility, but some are much more impact for your business that others.
3. Press gets your press
Sometimes, getting a good article on the right publications will lead to more press. The Greatist article led to Men's Fitness and The Bold Italic articles.
So remember, journalists read other publications to find ideas for articles.
4. Press can also get you partnerships
Think about your goals before doing press. If it's to get traffic, then make sure consumers are reading that publication. Other publications can be really good for reaching other businesses, investors and other potential partners.
Our articles on Food+Tech Connect resulted in Jamie Oliver's team and a couple other interesting opportunities reaching out to us.
5. Adapt to stories that journalists are looking for
Using HARO and twitter, you can follow what journalists are interested in writing about and find opportunities to squeeze into an article. That's how we landed on USA Today. The writer had posted on twitter that they were looking to interview food startups. I responded (luckily a follower of mine turned me onto the tweet), responded to his questions over email and had a nice Thanksgiving surprise a few days later when the article went live and I celebrated with more wine and family.
6. If you're going to pitch, be unique, funny or weird
The only traditional pitch that worked was with Pando Daily. On Erin's personal website she said "Send tips, ideas, solicitations and hellos to [email]". So that's what I did. Here's the email I sent:
Subject: tips, ideas, solicitations and hellos, from Feast
Hellos: Hi Erin!
Tips: Cooking is good for you, people should cook more often.
Ideas: Hey, maybe you can take an online 30-day bootcamp made specifically for busy professionals and tech writers to help them build a habit of cooking.
-David
She responded to my email almost immediately with an "lol" and we set up a call.
7. Leverage existing communities
I'm a member of the YEC, an invite-only community of entrepreneurs, which provides opportunities for members to contribute to publications where they have existing content agreements. That's how I was able to contribute on Forbes.
We were covered on Venture Beat as a result of our participation in the 500 Startups accelerator program.
Obviously, these aren't things that just anyone can do, but if you keep your eyes open you can find communities that will open up press opportunities.
—
What other unique tactics have worked for you? Share them in the comments!
—
David Spinks is the CEO of Feast, the home of the Feast Bootcamp: a 30-day online program that goes beyond just teaching you how to cook and actually helps you build a habit of cooking into your daily life. He's also the CEO of CMX Summit and TheCommunityManager. You can read more startup lessons on his blog at WhatSpinksThinks.