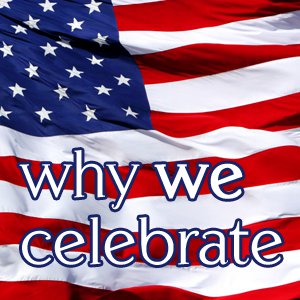 This weekend, we'll all be attending fireworks and picnics to celebrate Independence Day. That's fun (who doesn't like fireworks, right?!), but there are lots of people who aren't here to partake in the 4th of July festivities. Regardless of political your affiliation, we're all indebted to our armed forces. Ever since my brother served in Iraq and Afghanistan, I have a much greater appreciation for patriotic holidays. Earlier this week, my husband (you may know him as @30Lines) and I got to thinking: What could we do to remind people to take a couple minutes to remember Independence Day and the military who fight for our country?
And, that's when #WhyWeCelebrate was born. The goal is to use social media to keep the "why" of Independence Day in the forefront of our minds. But, we need your help.
#WhyWeCelebrate: Get Involved
Join the Facebook page and post photos, stories and anecdotes to tell us what Independence Day means to you.
Follow us on Twitter @whywecelebrate and share a memory or words of appreciation using the #WhyWeCelebrate hashtag
Thank a veteran and/or current member of the military and share their story online.
Blog about your relationship with a member of our armed services, or how someone you know has been impacted by war.
Share links on Facebook, Twitter or your social network of choice from newspapers and blogs around the country that articulate the true meaning of Independence Day. Remember to use the #WhyWeCelebrate hashtag so we can all see!
Post photos and videos from your community's July 4th celebration.
If we can each recruit 10 people to participate in #WhyWeCelebrate, and get them to tell 10 of their friends, that's a lot of people we can touch very quickly. It'll be amazing to see how to builds over the weekend. And, for people with family in the armed services, I know this bit of appreciation will mean the world.
This is very much an evolving project. If you have ideas about how we can get more people involved or what we can do to make it bigger and better, I'm all ears. Send suggestions and recommendations to heather at gebencommunication.com. In the meantime, feel free to start tweeting, blogging and Facebooking about this. And, let's see how many people we can get to join in!