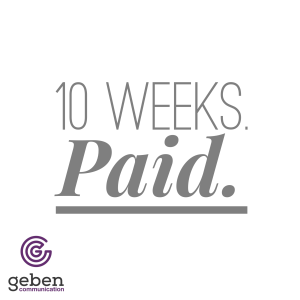 If we believe in equal pay for men and women — which of course, I do! — then we should also believe in equal benefits for men and women. New dads deserve equal time to bond with the baby and adjust to the realities of parenthood. I believe that policies that offer more time for moms than dads reinforce the (antiquated) gender norm that says mothers are the primary caregivers, while dads' careers are more important. No company of mine was going to reinforce this silly conventional wisdom.
Today, we officially rolled out our "Geben Loves Families" policy, which provides up to 10 weeks paid leave for moms and dads alike, whether they have a child through birth or adoption. It's a very progressive policy, but one that is in keeping with who we are as a company.
Geben Loves Families

Geben loves kids and wants to support our team members if they choose to expand their families. If you're a new parent – whether you gave birth or adopted – we want you to take time and enjoy the experience. We know team member needs vary, so we provide up to 10 weeks of paid leave for moms and dads alike. We also know that returning to work can be abrupt, so we offer the opportunity to transition back over a two-week period with a combination of remote and on site work. The return transition period should be worked out with your supervisor and approved before the beginning of your leave.
While I'm incredibly proud that we can offer this benefit to Geben employees, I'd be even more excited if this sparked other businesses to review and assess their own paid leave policies. Feel free to swap out company names and make this your policy. Maybe your company can't quite staff 10 weeks of leave, plus a two-week transition period for moms and dads. How about eight? Or six weeks paid leave with a three-week transition period? Whatever you can offer, I hope you'll use this as an opportunity to initiate an important dialogue within your company.