Sometimes you need to hit the reset button.
During a recent guided meditation, the instructor noted that we aren't perfect. Minds wander in meditation. Instead of judging this lack of concentration, acknowledge it and move on. As he put it, "Simply start again."
I needed to hear those three basic words this week. If I'm being totally honest, some recent changes at home and the office are more than just subtle changes. It's a lot of "restarts" all at once.
I needed to apply the meditation advice to multiple facets of my life. Time to simply start again.
One of those new beginnings is really FUN. When I started Geben six years ago, I had no idea if it would work. I'd never owned a business, so while I was pretty sure my career as a solopreneur would at least cover my bills, I couldn't imagine how this new adventure would unfold. Fast forward to today, and I employ nearly 25 people in Columbus, Chicago, New York and Seattle. We're working with a range of companies, from Fortune 50 retailers to some of the Midwest's most promising startups. We help big brands embrace the nimble, fast-pasted, innovative culture of startups, and help startups grow into bigger companies.
Because I apparently wasn't dreaming big enough when I started Geben, I didn't see the need to invest in a real logo/branding package. After all, it was just me. Why would I need a fancy logo? So, as much as I hate to admit it, I used one of those crowdsourced design sites, and paid a couple hundred bucks for something to throw on business cards.
But, that was then. Now, it's time to hit the reset button to match Geben's visual identity with who we are as a company: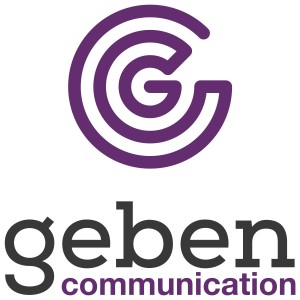 That is a much better visual representation of #TeamGeben. I love the interplay between the big and little G — reflecting our commitment to big brands and emerging companies alike. The typewriter-esque font, combined with the modern feel of the rest of the logo, is an ode to our delivering of both traditional and digital PR.
In logos and — more importantly — in life, deciding to "simply start again" provides the rare opportunity to embrace a blank canvas … to seize the opportunity to reimagine what can be. Then, it's up  to you to take action.