Before I officially launched my own company, I was on the fence. Did I really want to leave my safe, steady job to build a traditional and digital PR firm from scratch? (Keep in mind it was the height of the recession and quitting a secure job just didn't sound smart.) But, then I received one of the best pieces of advice: "The only way to silence the voice of self-doubt is to cross the start line."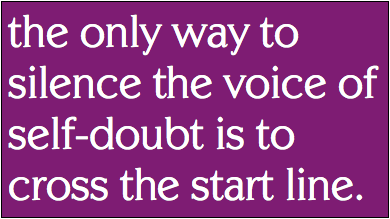 Those 15 words provided the nudge I needed to leave the safety net behind and create my own path.
I often hear from people who are thinking about taking a similar leap of faith. If that's you, here are seven pieces of advice, from me, to you.
Embrace startup culture. Or at least the best parts of it. Our firm does a significant amount of work with technology companies, so I've had the opportunity to spend a lot of time in startup offices. Not quite ready to wear hoodies for keynote presentations, or express your personality through patterned socks? That's ok, but you should embrace Silicon Valley's commitment to quick thinking, responsiveness and doing whatever it takes to get the job done.
Build a team. No one can run a company by themselves. At minimum, you need a good accountant — and supportive friends and family cheering you on certainly helps. But, you also need to know when you've outgrown life as a "solopreneur." Whether that means contracting with a virtual assistant to track expenses or book travel, or hiring your first full-time employee, surround yourself with smart, motivated self-starters. And, don't underestimate likeability. When you're working long hours, you want to spend that time with people you truly enjoy.
Plan smart. Implement smarter. Some new business owners take the time to write a full-fledged business plan (I didn't); others just jump into the business. Either way, you need some kind of basic roadmap: What are you trying to accomplish? How are you going to get there? Once you define success, make sure your day-to-day activities sync up with your big-picture goals.
Saying "no" is good for business. Early in a business's lifecycle, it's natural to want to accept every new business opportunity. In reality, not all clients make sense for your business. I have a standing rule: I won't work with jerks. Seriously. I'd rather walk away from a potential project than work with someone I don't like, or a company/product I don't believe in. Every once in a while, you might even need to fire a client. A move that drastic should be saved for extreme situations; however, when you realize you need to break up with a client, just do it and move on.
Twitter keeps the lights on. I can trace 75% of my company's new business back to relationships that began via social media … and most of that goes back to Twitter. That stat won't hold true across all industries, but the point is this: Social media is radically changing how business gets done. Time spent online should be time well spent. Start by figuring out how to build productive relationships via online channels.
Innovate best practices. If your industry is anything like mine, you're surrounded by tried-and-true best practices. Reexamine "the way it's always been done" to identify opportunities for improvement. Look at your traditional, offline activities. How do those translate online? Nail the basics, but don't stop there. By innovating best practices, you'll stay ahead of the curve, which your current and prospective clients will appreciate.
Work-life integration is better than balance. If you ask your fellow business-owner friends, I bet 9 out of 10 will tell you you're never truly off the clock. Instead of stressing out about this preconceived notion of balance, focus on integration instead. Who says you have to work M-F, 9-5? Be the boss of your own schedule.
One last parting piece of advice: Bring on the craziness. You're in for a wild ride, but it's totally worth it.
•••
Like what you're reading? Click here to subscribe to prTini.com.