Everyone has that one spot in the yard or on the patio that could use a little sprucing up. It has potential, but keeps finding its way back onto next year's to do list. That's why Sprout it – a startup gardening app designed to make growing simple – worked with Geben to launch the "Backyard Takeover," an online contest and influencer marketing campaign that gave fans a chance to win an outdoor revamp … all while increasing awareness and driving downloads of Sprout it's new iPad app.
Approach: To celebrate the launch of its new iPad app, Sprout it gave fans a chance to win a backyard makeover. By snapping a photo of a spot in their yard that needed a little sprucing up and tagging it with #GrowInspired on Instagram or Twitter, fans were entered for a chance to win daily prizes. One grand prize winner also won a backyard design courtesy of DIY home bloggers Chris and Julia Marcum, plus a budget of $1,000 to bring it to life.
As an early-stage startup with limited social reach, Sprout it faced the challenge of executing a major influencer campaign during peak gardening season … on a shoestring budget. By teaming up with influential home and DIY bloggers, Geben helped Sprout it extend the reach of its campaign while connecting with new audiences outside of the gardening community.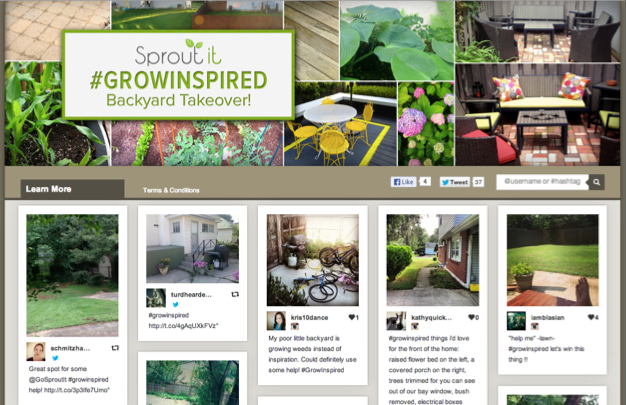 Objectives:
Engage with new fans/followers to grow Sprout it's community
Increase Sprout it impressions, specifically driving new visits to the website
Capture email addresses to grow Sprout it's user base
Create awareness about Sprout it's new iPad app and introduce Sprout it to new audiences
Execution: Geben worked with six influential home, garden and DIY bloggers – Chris Loves Julia, Bower Power Blog, Our Humble Abode, Pure Mamas, Gardenerd and A Family That Eats Together – to promote the campaign. In addition, we incorporated frequent, social updates into Sprout it's content calendars on Facebook, Twitter and Instagram. Lastly, a small amount of targeted Facebook advertising supported the overall effort.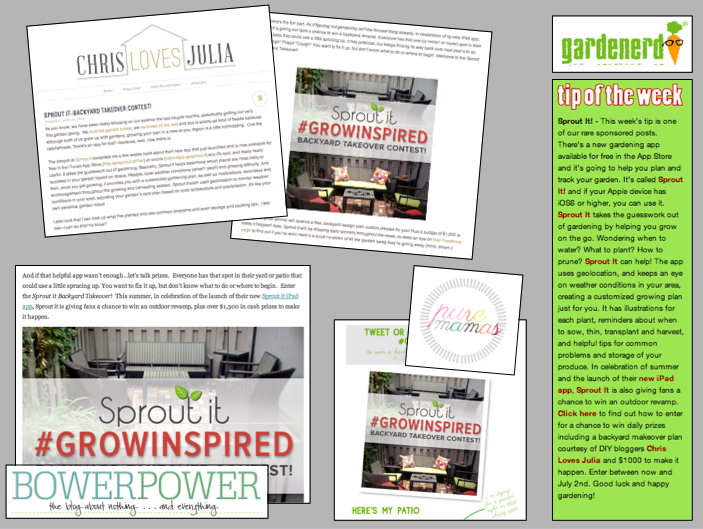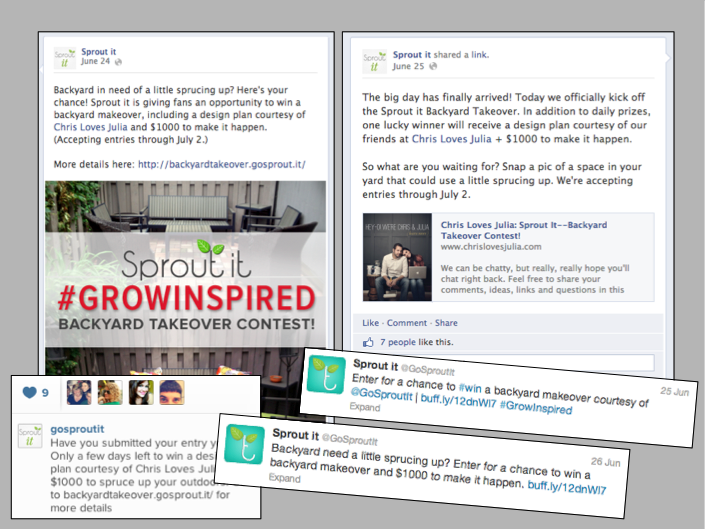 Results: The Backyard Takeover far exceeded Sprout it's objectives and expectations, especially since the campaign was executed on such a limited budget. Relationships built with home and DIY bloggers resulted in seven blog posts, each of which promoted both the campaign and Sprout it's iPad app. In addition, the #GrowInspired hashtag reached 60,000 people, while campaign-related Facebook posts reached an additional 300,000 people (not to mention Sprout it's Facebook fan base tripled throughout the campaign).
More than 150 photos were submitted and Sprout it collected 130 participants' email addresses. Plus, over the course of seven days, the campaign drove more than 5,000 visits to Sprout it's website, plus 1,200 unique visits to the contest page.
Lastly, the campaign has generated ongoing media coverage for Sprout it: The Backyard Takeover was named by Huffington Post as one of the 10 Best Influencer Marketing Campaigns of 2013, plus it has been featured on The Next Web, Social Media Today and PR Daily.
 Want help leveraging influencer marketing for your next PR campaign? Email me.