How do you connect PR to actual business outcomes? Today's guest-poster, Heidi Sullivan, is one of my favorite people in PR because she's always focused on helping the industry make better business sense. The focus of this blog post is no exception. When PR becomes a profit center, it moves from something nice to have to a must-have. As SVP of Cision, Heidi is constantly surrounded by PR, making her an qualified authority on this topic. (Note: Cision is a Geben client; however my relationship with Heidi — and our discussion about this blog post — started long before our client/agency relationship. She's just that smart.)
•••
Post by: @hksully
It seems we've been hearing a lot about PR ROI these days. In March, Molly Borchers wrote a great piece for the Huffington Post interviewing five measurement experts in PR. Earlier this month on Mashable, Rebekah Iliff of AirPR drew a line in the sand calling PR Tech "the next marketing frontier." Why are we hearing so much about this now?
For more than 100 years, public relations has been about telling a brand or an organization's story: gaining awareness and improving reputation. Noble profession, right? However, in today's ever-evolving digital landscape, PR tends to be second fiddle to its big sister marketing come budget time. But why?
One word: Measurement.
Marketing is seen as a profit-center because marketing metrics tie back to the bottom line (i.e. email campaign X generated 500 click-throughs and 30 leads, resulting in $XXX in revenue.) PR has been seen as a cost-center because of less-tangible goals based on vanity metrics like tracking followers, ad value or views.
Over the past six or seven years, however, social has changed communications in radical ways. What was traditionally paid (marketing, advertising) and earned (PR), is now paid, earned, owned (your corporate blog, website, newsletter) and shared (your Facebook and Twitter pages).
This is where the lines get blurry. It seems that you can't throw a rock without hitting an article about content marketing these days. So, that's marketing, right? Well, sort of. PR frequently owns the company blog, or manages its Twitter handle or Facebook page. PR has figured out the right story to tell when there isn't any news. Sure sounds like content to me. We just need to know how to measure it.
If you haven't read Jeremiah Owyang & Rebecca Lieb's Converged Media Imperative for Altimeter Group, be sure to check it out. Their converged media workflow is the new job description for marketers and PR pros alike. Content Strategy, Publication Across Channels, Engagement, Amplification, Restructuring and Analysis, all with Real-Time Measurement and Iteration.
Wash. Rinse. Repeat.
When Cision launched our content marketing suite late last year, our PR and marketing focus was on content marketing through our e-book "Power Your Story: Content Marketing Essentials for PR." From that single e-book, we created 54 different pieces of thought leadership from webinars to tip sheets, earned media placements to email campaigns. But it didn't stop there.
We tracked the number of downloads of the e-book as an initial metric (>6K downloads), then tracked sales opportunities that came from those downloads (200+ hot leads) and then from those hot leads that converted to sales, actual revenue was tied back to the campaign to determine ROI (~400%). Our PR, marketing and social teams all worked together throughout the entire process.
It doesn't always have to tie back to sales, however. If your product is sold in brick-and-mortar stores or your goals aren't necessarily sales-driven for a particular campaign, this isn't always practical. What's important is that you have tangible measurements of action before you begin. If your goal is to increase your website traffic through earned media, make Google Analytics your BFF. If your CEO wants to raise her reputation in the industry, track strategic business relationships she's built based on coverage or speaking events.
Regardless of your goal, for PR to truly have a seat at the table during budgeting, we need to both break down the silos with marketing and provide true profit-center measurement for our efforts.
Do you have examples of campaigns with solid metrics that tied back to your organization's strategic objectives? Share them here.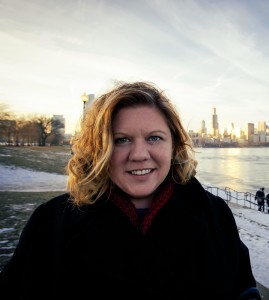 Named Influencer of the Year in 2014 by The Hub in association with LinkedIn and one of PRWeek's 40 under 40 in 2012, Heidi Sullivan is Senior Vice President of Digital Content for Cision and a self-proclaimed social media metrics nerd. She is a host of the popular Cision Social Media Webinar Series and frequently speaks at industry conferences and events on best practices in content marketing social media, communications and the changing media landscape. She joined Cision in 2004. Connect with Heidi on Twitter.