All too often, PR ends up in a peak-and-valley cycle – especially if a core tactic is media relations. Things like funding announcements, major partnerships and product launches tend to drive big bursts of media coverage. But, after the initial excitement (the "peak") wears off, then what? Minimal media coverage, reduced share of voice and decreased visibility … in other words, the "valley."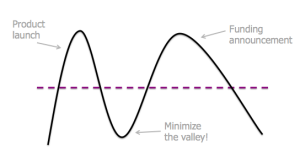 Breaking the peak-and-valley cycle is both a challenge and opportunity. Our clients rely on us to secure major press – in tech, lifestyle, industry trades and general business outlets – when they have news to share. But, companies don't always have major news to share. So, in between those announcements, how do we sustain the momentum built up during the peak? That's when the fun starts! By getting creative, we can develop additional opportunities to secure media coverage and other PR-related outcomes. Here's how:
Thought leadership: Securing guest posts and interviews where clients can share their experiences and expertise drives brand awareness and establishes credibility – critical elements once you do have a true news story to share. By leveraging our clients' existing expertise, we've secured coverage in a range of national outlets, including Entrepreneur, Huffington Post and Mashable, plus numerous niche industry blogs. These placements reinforce clients' key messages, establish trust, and drive valuable traffic to their website.
Content marketing: Viewing content marketing through a PR lens opens the door to all sorts of media opportunities. For example, we worked with a basketball-related startup earlier this year to create an infographic guide to the top shooters in the Sweet 16. More importantly, we timed the infographic to become available to media the day Sweet 16 games started. This landed coverage on CBSSports.com (HUGE since CBS had broadcast rights to the tournament and tons of people were going to their site to find news and updates), which led to 90,000+ views in one weekend. The infographic spurred media coverage for the client, while reinforcing their core positioning.
Trendjacking: What's the major trend thatmedia in your client's industry is constantly talking about? What other current events could they comment on? When you don't have your own news story to pitch, borrow someone else's. (Tweet this.) Trendjacking is especially helpful when you want to build momentum for your next "peak." You can simultaneously secure non-news media opportunities while building relationships with the reporters you'll likely be pitching when you're ready to tell your own story. Win-win.
These are just a few of the ways we help clients break the peak-and-valley cycle. Now, it's your turn to share. How do you create media opportunities during "non-news" times? Share your thoughts in the comments!