A few years ago, I moved from Orlando, FL to Columbus, OH. Now, I live in a part of downtown known as German Village, the largest neighborhood on the National Historic Registry. It's an incredible part of the city; however, I didn't really feel like part of the community until I got to know some neighbors, volunteered to help plan some neighborhood functions and established some actual relationships with the people who also call German Village home.
As I learned, moving somewhere doesn't mean you're automatically part of that community. That's a process that happens over time.
Similarly, a person liking a Facebook page or following a brand on Twitter, Pinterest, or Instagram doesn't suddenly make them part of that community. Community isn't automatic. It takes work. But, as a brand, if you work at it and understand the stages of becoming a member of a community, you can lead people on a journey from passive lurker … to active participant … to brand advocate.
Let's look at the six stages of online community development: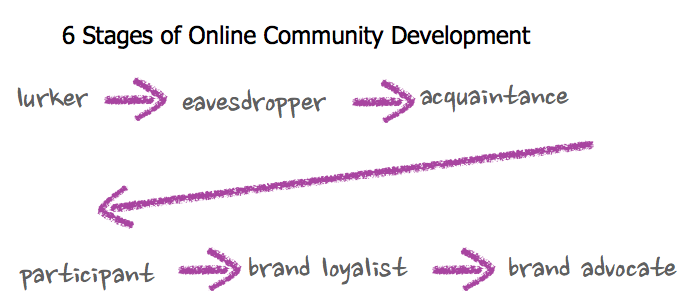 Lurker: A lurker is someone who "liked" your page or began following you on Twitter, Pinterest, Instagram or some other network. They've taken a first step, but that's it. In fact, a lurker is barely paying attention to the content you're sharing and isn't interested in "joining the conversation."
Eavesdropper: An individual becomes an eavesdropper after something piqued their interest and now they're beginning to develop some interest in what you're saying. They're still not interacting with your content, but you at least have an "in" to create some interaction.
Acquaintance: Finally, you've said or posted enough things that caught their attention. The individual is mildly interested in what you have to say, and like an acquaintance in your neighborhood, you'll start to have some surface-level interactions.
Active Participant: As interactions become deeper and more meaningful – commenting instead of simply "liking" or proactively asking you questions or starting conversations with you on Twitter – the individual graduates from an acquaintance to a full-fledged active member of the community.
Brand loyalist: Loyalists have an affinity for you over the competition. When given a choice, they pick you over the competition, even if the competitor is cheaper or slightly more convenient. Loyalists have embraced your "why." They're buying more than a product or service. They're buying into your mission and believe in what you're doing.
Brand advocate: This is where the magic happens. Brand advocates are such strong members of the community that they want to recruit others to join. They tell other people to buy your product, share amazing customer service stories with their friends, and willingly answer questions from people (even if they don't know them personally) about your product/service. They're truly an extension of your team – and don't require anything in return, other than you just continuing to exceed their expectations.
Do these stages align with what you're seeing in your online communities? As you're building online communities, how do you segment people and move them from a passive lurker to full-fledged brand advocate?
•••
Like what you're reading? Follow Heather on Twitter or subscribe to the blog.