From social entrepreneurs to corporate brands with a strong emphasis on mission, some of today's most innovative and successful companies infuse a larger purpose throughout their products, services, hiring practices, and corporate giving. They're leading with why (instead of how or what.) Here are four examples of brands leading with values:
Always #LikeAGirl
Always has launched a social media campaign to redefine what it means to run, throw and generally act "like a girl." (As in, "like a girl" shouldn't have negative connotations.) This online video questions why the use of the term "like a girl" when describing an action has to mean weak or silly. The campaign resonates with women and girls (clearly, Always' target demographic), while also reinforcing a positive social message. According to the YouTube description: "We're kicking off an epic battle to make sure that girls everywhere keep their confidence throughout puberty and beyond, and making a start by showing them that doing it #LikeAGirl is an awesome thing."
Made with Code
Google, long recognized for its commitment to sustainability and promise to "do no evil" is doubling down on getting girls involved in computer science. The tech giant has committed $50 million over the  next three years to its new initiative, Made With Code. According to TechCrunch, the program is "aimed at getting young women excited about learning to code and close the gender gap in the tech industry. The idea behind it is to show young girls that the things they love, from apps on their smartphones to their favorite movies are made with code, and they can apply the skills they learn to their own individual passions."
Honest to Goodness

Jessica Alba's startup, The Honest Company, began as subscription service for diapers and other baby/home products. As the mother of a one-year-old, I love their commitment to safe, non-toxic, sustainable products. But, I also appreciate their desire and promise to support ALL families, not just those who can afford their high-quality goods, through their give-back program, Honest to Goodness. As the website explains, "Through partnering with amazing non-profits, we are working to solve critical health and social issues in the community. Whether it is providing essential baby supplies for families in need or monetary support to advance childhood health research, we recognize that the numbers on our financial bottom-line are not the only measure of success. To us, giving back time, money, and product are measures of equal importance." As of July 1, they'd helped 50,000 families in need. While I don't pretend to be a one-person focus group, that matters and makes me that much more loyal to The Honest Company.
Zady
Zady, a clothing retailer, is on a mission to get people to rethink fast fashion. (What's fast fashion? Here you go.) Zady believes that the problem is "big-box retailers that are focusing less and less on quality and more and more on quantity, rush-producing millions of cheaply produced items for bottom barrel prices at the expense of the workers constructing them."
To make their mission unquestionably clear, Zady placed a full-page ad in the Wall Street Journal: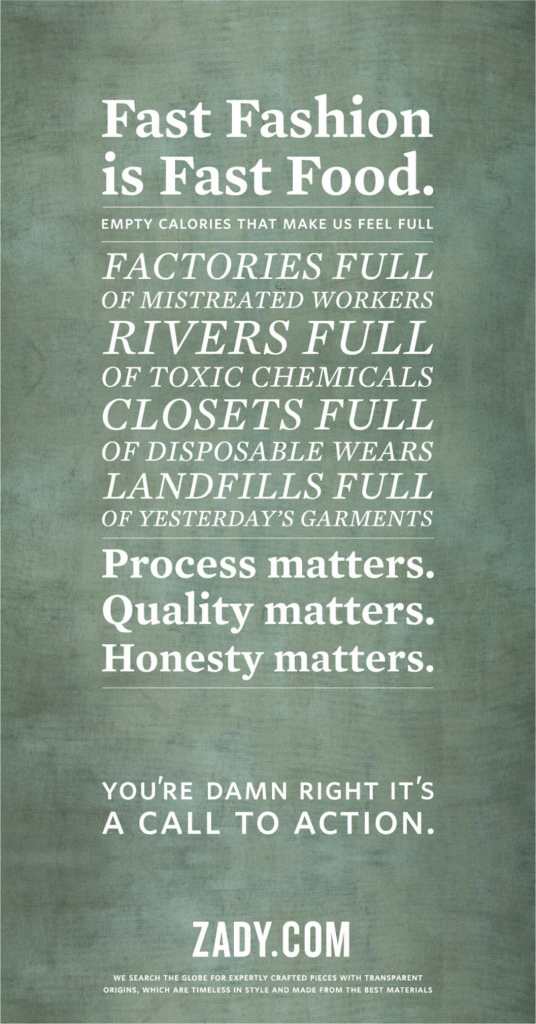 What are your favorite examples of for-profit companies leading with values? Share in the comments, and feel free to include links!