Today's post comes from Alyson Moses, lecturer in The Ohio State University School of Communication and former Edelman PR pro. 
•••
Post by: Alyson Moses

One of my first bosses told me to keep my head "above the cubes." I wasn't quite sure what he meant at the time, but I now understand. He meant put your head down, don't gossip, work hard. If I could demonstrate leadership now, I would progress and transition from office friend to office leader.
In his book "You Don't Need a Title to Be a Leader" Mark Sanborn focuses on leaders' power with people. He says the biggest difference between people who manage others vs. people who lead others is how they develop them:
Managers have employees, leaders win followers.
Managers communicate, leaders persuade.
Managers try to be heroes; leaders make heroes of everyone around them.
You can win followers, persuade and build people up, right now.
Offer sincere compliments – people like to hear that you read and enjoyed the interesting article they wrote, that they picked a sharp tie, or that they carry a cool handbag.
Ask better questions, and really listen to the answer – how often do you ask the question "How are you?" just to get the requisite "Good." What happens when you change your question to "What was the best part of your morning?" "What made you proud today?"  or "Do you feel you made a difference today?" The answers will give you more insight into the other person, and help you build deeper relationships at work and home.
Persuade by giving a reason to believe – tell your people what their work means, and what they mean to the success of your organization. Help them see the fruits of their labor.
Notice good work – studies have shown that acknowledging hard work pays off and motivates people to work even harder.
Collaborate – it's more fun to work in teams than alone. Brainstorming and sharing resources brings the best ideas to the forefront, and breeds more creative solutions and results.
Excite; take risks – there's nothing worse than having to follow someone boring who is afraid to break out of the status quo. Actress Geena Davis sums this up well: "If you risk nothing, then you risk everything."
Challenge politely – people I respect the most aren't afraid to say things like "I don't want to be contrarian, but …" or "Let's play devil's advocate." Sharing that you disagree doesn't usually put up a fence; rather builds a bridge to a better plan.
I suggest my students embrace leadership as my boss encouraged me to that day. It's never too early or too late in your career to start making a positive impact on others.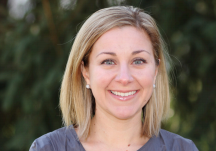 Alyson is a strategic communication lecturer in The Ohio State University School of Communication, instructing on PR campaigns, strategic message design and writing. She co-advises OSU's chapter of Public Relations Student Society of America and OSU's student-run PR firm, The PRactice. Alyson previously worked with Edelman and now consults for corporate and technology clients. Connect with Alyson on Twitter @alymoses. 
Photo credit: Stephen Cairns, via Flickr Creative Commons