Yesterday, Arik Hanson interviewed Greg Swan about "disposable" social media — tools like Poke and Snapchat. As Greg noted,
"… there is a new breed of social networking tools that purposefully don't let its users archive or retrieve content once it has been viewed. As someone who spends their days concerned about online reputation management for my clients (and myself), this is quite refreshing."
While very popular among teens, Snapchat and similar tools are just beginning to hit the radar of older audiences. People assume Snapchat (and Poke, which includes the same features) are primarily used for sexting; however, as TechCrunch documented, that's not quite true:
"When you're sending over 50 million snaps a day, a few of them are bound to be of naughty bits. But 80 percent of those snaps are sent during the day, with a spike during school hours. Whatever the sexting stats may be, they're more likely using Snapchat to cheat on tests than to sext. Snapchat wasn't built for sexting, which seems clear from the fact that pictures self-destruct in less time than it takes to fully enjoy a nude pic."
So, let's take a step back and go over the basics: What is disposable media, why this sudden interest and should marketers pay attention?
Disposable Social Media At a Glance
What: "The apps allow users to share images, videos and text which have a built in self-destruct mechanism. Now-you-see-it-now-you-don't.  A few seconds after viewing, pouf! it's gone." (Source: Social Media Today)
About Snapchat: "Snapchat is a free photo-sharing application that launched in September 2011 and has since caught fire among teenagers. Snapchat is different than other photo-sharing apps in a few ways. When you receive a Snapchat photo, you tap on the message and hold your finger on the screen to view the photo. It then disappears after a set period of time, up to 10 seconds.Users can share the photos with a specific list of friends, and write captions on them by tapping on the photo." (Source: Wall Street Journal)
Risk factors: "Disposable media is low-risk. It won't last forever – on purpose!" (Source: Communication Conversations)
The real appeal: "There's an intimacy that comes with Snapchat that makes those pictures safe, and much more enjoyable than seeing yet another perfect picture of my sister on Facebook. I see her as she really is. It's about as real as you can get in a world where everything happens through an all-seeing eye of 1′s and 0′s." (Source: TechCrunch)
From TechCrunch, a comparison of the two key players: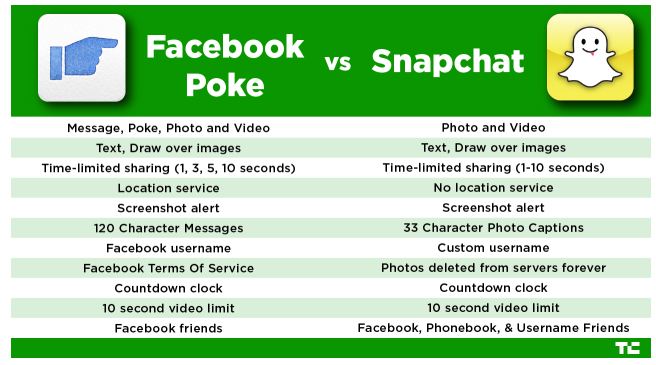 Marketing Appeal
According to AdAge, NYC frozen yogurt shop 16 Handles was the first brand to test marketing via Snapchat. The concept was simple:
"The "Snappy New Year" campaign urges the company's Facebook fans to send a Snapchat photo, or "snap," of their frozen-yogurt purchase to the company's Snapchat account. Participants then receive a coupon via Snapchat that can be redeemed at the register … 16 Handles did not have a Snapchat account before the campaign started on Jan. 1. Now, the company has sent and received more than 1,400 snaps with users."
This froYo shop isn't alone in testing the marketing potential for disposable social media. According to Mashable:
"An Israeli lingerie brand called Delta used Poke to distribute a short ad. The 10-second video shows a model getting dressed with Delta's lingerie and features a promotional message at the end for a sale on Delta's website."
The Bigger Picture
On PandoDaily, Sarah Lacy points out that "disposable social media" apps are part of a larger trend — a shift in how we think about our mobile, "always on, always connected" lifestyles:
"But there's another thing that Snapchat is a reaction against. It's not quite as profound as turning what used to be a cherished memory into a quick disposable hello, but it's an interesting reaction to how manufactured social media profiles have become.

It's been beat into everyone's head by now that putting a photo on Facebook or writing an errant Tweet will linger around forever and can come back to haunt you. As Facebook has gone from something you and your college friends use to something the world, your parents and potential employers can see, profiles have gotten more manufactured. Social media is far more a projection of the you you'd like to be than it is your real self. To some … it's lost the element of fun."
Your turn: Have you experimented with Snapchat or Poke? Will you be more inclined to share photos or video with a smaller group of people if you know the messages will self-destruct? What about marketing opportunities — yay or nay?
•••
Like what you're reading? Click here to follow Heather on Twitter or subscribe to the blog.