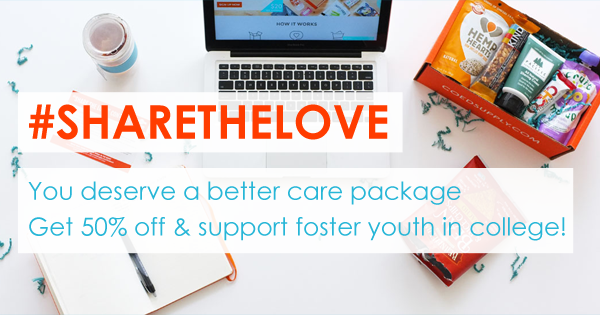 Today's blog post isn't about PR, but it is about two of my favorite subjects colliding: A startup (with a female founder!) weaving social good into its mission.
Think back to your college days. Remember how much you loved receiving care packages in the mail? My mom used to send me all kinds of random stuff that always made me smile.
More often than not, family and friends want to do something nice for their college student, but they're not sure what to send. So, they grab some snacks, maybe a small gift and throw it in the box. Thoughtful? Yes. Useful? Sometimes, but not always. Healthy food? Rarely.
But, that's about to change. Co-Ed Supply is modernizing the care package. And, this month, they're partnering with Rise Above to provide care packages to foster kids in college.
About Co-Ed Supply: Families have been sending care packages to college students for decades. But care packages haven't evolved to keep up with the modern college student. Co-Ed Supply delivers curated college essentials — modern care packages filled with healthy snacks, personal care, and entertainment. (Don't you wish you had this service when you were in school?!)
About Rise Above: Founded in 2009, Rise Above Foundation is dedicated to serving the nearly 9,000 youth in Massachusetts in foster care. They strive to provide a sense of normalcy, comfort and self-esteem through a variety of activities so that children in foster care have all the tools possible to overcome their challenges.
Here's the deal:
Co-Ed Supply was going to work with one of the big daily deal sites, but they decided to cut out the middleman to give you a truly awesome discount. Until the end of February, you can get a 3 month plan for 50% off regular pricing:
$30 for 3 months of the Classic box
$52.50 for 3 months of the Deluxe box
Free shipping, as always!
Not only do you get a deal on fantastic care packages, you also get the satisfaction of knowing you're helping another student who deserves a better care package, too. Sounds like a win-win, right? Head on over to Co-Ed Supply's website to learn more. Like what you see? Why not surprise your favorite college student with a care package they'll love? Happy gift-giving!
Disclosure: Yes, I am an investor in Co-Ed Supply, but that's not why I wrote this post. If you read prTini often enough, you know I love writing about social good and startups — especially ones with a female founder.