Last year, like so many people I know, I made a few resolutions. But, I only stuck to one — the one that was tangible … measurable. (The goal was to read 24 books. See my reading list here.) The lesson? I'm a data person, and if there's a box for me to check off when something is done, I'm much more likely to stick with it. After learning these things about myself in 2016, I realized I needed to approach resolutions differently in 2017 if they were going to stick around past January.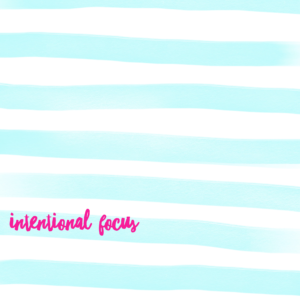 My mantra this year is intentional focus. I've identified five key areas that I want to cultivate/nurture in 2017. But, I also know that those five things alone won't motivate me to stay focused throughout the year. (In fact, I did basically this exercise last year, but got waaaaayyyy off track by Month 2. I wasn't specific enough.) In 2017, I'm picking three specific, tangible tasks or habits to actually do — and cross off — each month, and I've already mapped out 9 of the 12 months. By doing these small things throughout the year, I'm more confident that I'll end up achieving the focus I'm seeking along the way. (I even went old school and bought a paper calendar for the first time in eons to track progress along the way.)
Do you set resolutions? Pick a word or phrase to guide you? I'm all for accountability buddies in this process, so if you need someone to help hold you accountable, let me know! I'll raise my hand and help you … if you help me stay focused as well!
In 2017, let's be focused. Together.