A couple months ago, my friend, Amy Taylor, told me about a brand that she had fallen in love with: Poppy Soap Company. As soon as I heard about them, I made a mental note to buy soap.
But, I got busy. Closed the tab in my browser. Moved on. Out of sight, out of mind.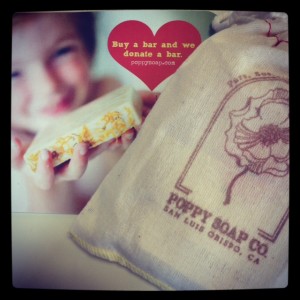 Since then, Amy agreed to be a brand ambassador and help them spread the word about their Indiegogo crowdfunding campaign. Last week, I received a beautiful bar of soap and a hand-written note from Amy. You see, Amy knew this would be a company I'd get excited about. They don't just make organic, handmade soaps. Poppy Soap is also committed to giving back to local communities around the country. For every bar of soap you buy, they'll donate a bar to your local women's shelter. When I lived in Orlando, I co-facilitated a support group for survivors of domestic violence. This is a cause near and dear to me. And, Amy knew that and knew I'd appreciate the surprise package.
While the link to the crowdfunding campaign was on the bottom of the postcard, there was no "ask." Just early "happy holidays" wishes from one friend to another. But, as soon as I opened that package and smelled the soap, I checked out the Indiegogo campaign and decided I needed to support their efforts. So, I bought soap. And, not just a bar of soap. I bought the holiday package — 40 BARS! I hope my friends, family and clients get as excited about this soap as I am.
•••
What's the PR lesson in this?
Brands and consultants are spending an awful lot of time these days talking about influencer campaigns. And, with the growing popularity of Kickstarter and similar platforms, crowdfunding is a popular tactic for emerging brands looking for product/market validation, pre-sales and good, old-fashioned fundraising. But, neither influencer marketing nor crowdfunding will work if you don't get the right people on board with your effort.
So, how did a little startup soap company approach this? I asked my friend Amy to share some of the details in hopes that other emerging brands can learn from the smartness and success of the Poppy Soap Company.
Lindy, the founder, conducted some recon to identify and handpick influencers whose natural voice/mission/passion aligned with Poppy Soap's product + Bar for Bar mission. Then, rather than emailing the influencers to invite them to become Ambassadors, Lindy created a personalized video invitation for each of the bloggers. (Here's the link to Amy's invite video.) Whether you're pitching media or influencers, personalization is critical. What better way to get personal than a video custom-created for each influencer?
As part of the influencer program, each ambassador had to commit to:
Share a blog post and ask people to give back to the cause coinciding with the launch of the Indiegogo campaign
4 social media shares regarding the campaign
Posting a Bar for Bar Ambassador badge on their blog
To reward/thank them for participating in the program, each ambassador received:
Website recognition (pic & link to website)
4 shipments throughout the year that contain more than $100 in Poppy Soap products
$35 gift certificate to pass on to readers
A soap donation in the ambassador's name to their local shelter
Personal satisfaction of helping women's shelters
A couple other tactics that helped get this effort off the ground:
Sample blog post to make it easy for the ambassadors to write their own post
Traditional outreach via emails to media and other bloggers
Throughout the campaign, Lindy continues to update the community on progress through videos (which you can see here)
Every person who registers with indiegogo gets a unique campaign URL directing back to the campaign. By sharing that link it's possible to track how many people you have referred. Lindy decided to incentivize people to share her campaign in their social channels by offering a free year of soap to anyone who referred 3 people (who made donations) back to the campaign page through their personal url.
So far, the campaign seems to be working. As I hit "publish" on this blog post, they're less than $2,000 away from hitting their goal of $10,000 — with five days left in the campaign.
Want to get inon the fun? Check out the Indiegogo campaign and get yourself or your friends and family some amazing soap!