More than half of journalists rely on social media as they're researching stories — one of many reasons a company's traditional and digital PR/social media should be integrated. But, there's another growing trend in content publishing that further highlights how participation in social media can spark media coverage.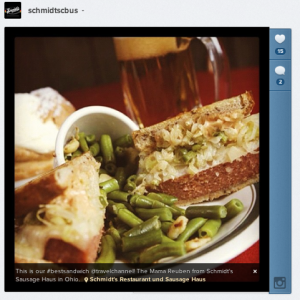 The trend: Media outlets are crowdsourcing editorial content through social channels. For example, The Travel Channel recently asked their Instagram followers to share a photo of their favorite sandwich using the hashtag #BestSandwich. We were helping Schmidt's Restaurant — based in Columbus and a Man vs Food favorite — expand their digital presence to include  Instagram at the time. After appearing on Man vs Food, Schmidt's became a popular tourist attraction in Central Ohio, and securing a shout-out from the Travel Channel would further support their status as a can't-miss Columbus tradition. So, we posted a photo on the Schmidt's Instagram account with the #BestSandwich hashtag. Not long after, Schmidt's was included in the Travel Channel's photo gallery of "best sandwiches."
Had Schmidt's not been participating in social media, they would have missed this PR opportunity. The lesson? Don't underestimate social media as a tool to secure media coverage. In addition to using social media to connect with reporters, spot trends that can generate outreach opportunities, and establish expertise, you should closely follow the targeted media outlets' own social channels to discover opportunities for much-coveted editorial coverage.
How else are you using social media as an extension of your media relations efforts?